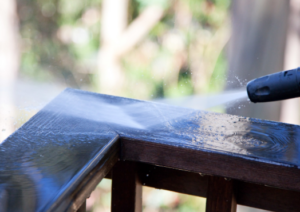 Maintaining a professional look at your place of business or offering a clean welcoming look at your home can be challenging. A litany of substances, be it gum, graffiti, grease, grit, pollution, birds, mildew or dirt, can tarnish your otherwise impeccable windows, walls, roof or sidewalk. 
Fortunately, there's an easy solution to that challenge.  A reliable pressure washer. Pressure washers are an ideal way to get rid of the dirt and grime that accumulates outside your home or place of business. You'd be surprised just how far the benefits of pressure washing your property can go. Check out the top four benefits of pressure washing your home or business. 
Pressure Washing Enhances Your Property Value
Pressure washing is one of the most economical ways to increase your property value. Having a clean, welcoming entrance really sets a huge first impression when receiving visitors.
Pressure Washing Means Preventative Maintenance for Your Property
Making sure that your walls, sidewalks, roofs, and any other exterior area are regularly pressured washed is the best way to prevent grime and mildew from breaking down your property's exterior. Pressure washing is especially important before you paint, as it will guarantee that your paint job lasts much longer.
Don't Forget About Curb Appeal
Whether your property is going on the market soon or now, you are still going to want to increase your curb appeal. And how can you do that? Pressure washing it. Removing all the mold and mildew and dirt will work wonders on your property's overall aesthetic.
Pressure Washing Protects Against Dangerous Bacteria
Give it enough time and even the most impeccable parts of your home's exterior surfaces will begin to accumulate dirt, grime, mildew and other bacteria. This type of unwanted gunk can easily cause allergies or even sickness to both you and your pets. Take the safer route and make sure to pressure wash that bacteria away. 
Do you feel like you have a better understanding of the benefits of pressure washing but don't know how to do it yourself? Don't worry because Primetime Window Cleaning has been pressure washing property exteriors all around Chicago for years. We have expertise and resources necessary to make sure everything is cleaned and clear. 
If you have any questions about the services provided by Primetime Window Cleaning and are interested in a free quote please click here: Request Quote