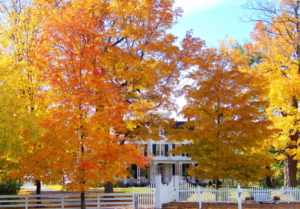 Ah yes, the cool breeze off Lake Michigan has come to relieve Chicago of yet another swelteringly hot summer. Sure, you may be ready to embrace the cooler weather, but are you prepared for the wind, the leaves, and even potential snow? Well, while there are many things that you are going to need to do to prepare your property for fall, getting your windows cleaned should be a high priority. Why? Just keep reading. Below are some major reasons why window cleaning services are so valuable during this seasonal transition. 
Clean Windows Help Prevent Colds
Both transitions from winter to spring and summer to fall are times when allergens are most likely to kick in. Windows and window screens are an ideal place for airborne allergens to accumulate and if they are left unattended, you, your family or your employees are far more vulnerable to getting a cold. So, make sure to keep them sparkling clean at this critical time of the year. 
Clean Windows Kill Unwanted Viruses and Bacteria
As mentioned above, allergens are especially prone to accumulate on windows during the fall but they are not alone. In addition, viruses and bacteria find windows to be an ideal place to live as the temperatures outside begin to cool. And we're talking about the nasty stuff, MSRA, VRE, and staph. Prevent avoidable infections by keeping your windows clean during this critical time of the year. 
Make a Good Impression
Realtors and property experts know it. One of the most important aspects of creating a warm and inviting atmosphere at your home or place of business is having clean windows that both let in natural light and don't obstruct nice views.
 With Thanksgiving right around the corner, you are going to want to make sure that you create the best possible environment for your holiday visitors and there is no more important first step cleaning your windows. Better understanding the importance of getting those windows cleaned but don't have the time or know-how to do it yourself? Give Primetime Window Cleaning a Call Today! We are Chicago's most reliable window cleaning experts and we can guarantee 100% customer satisfaction. If you have any questions about the services provided by Primetime Window Cleaning and are interested in a free quote please click here: Request Quote