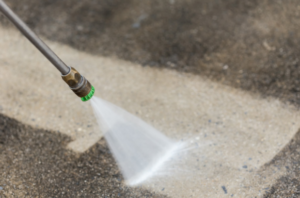 It's safe to say that most people haven't spent much time pondering the origins of the pressure washer. Sure, they are certainly useful in removing loose paint, mold, grime, dust, mud, and dirt from surfaces and objects such as buildings, vehicles and concrete surfaces, but most don't think about a time before pressure washing was commonplace. But when you look back at the origin of pressure washing you'll find a riveting story steeped in American history.
The first pressure washer was invented as an indirect result of the infamous Volsted Act, which prohibited the sale, manufacture and transportation of alcoholic beverages within the United States. Prohibition led to a vast criminal underworld in which "bathtub gin" was illegally produced and sold all throughout the country. It became a booming industry and by 1927, Al Capone's bootlegging operations earned him $105 million—the highest gross income ever received by a private U.S. citizen at the time. 
Meanwhile, an ambitious Pennsylvanian resident wanted to get in on the action. Frank W. Ofeldt II, an employee of a western Pennsylvania producer of gas-fired water heaters and boilers, was busy working at home in his garage, trying to perfect a design of a whiskey still for a local moonshiner, when he had a vision. 
As his whiskey gadget's steam outlet aimed downward, he noticed something unusual when a wet steam hit the greasy floor and literally began to crawl. He understood that steam alone – a wholly gasified liquid that lacked both mass and body – could move the grease without removing it. The innovator in him realized the potential of this discovery and he immediately began working on a cleaning device. The end result: the first ever steam pressure washer or "high-pressure Jenny".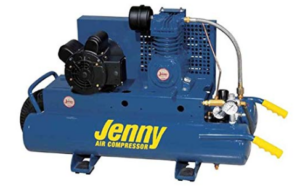 Of course, like all inventions, there is always a debate as to who exactly gets credit for what, as any final product is usually the result of years of iteration and evolution. The story of the pressure washer was no different. The next major evolution came with the hot-water high-pressure washer being invented by Alfred Kärcher in 1950. 
Initially, Kärcher specialized in the design of industrial submersible heating elements in salt smelters, which were heated with immersion heaters. After working on various experiments, he came up with a hardening furnace for alloys that was called the "Kärcher Salt-Bath Furnace". While this certainly laid the groundwork, it wasn't until 1974, under the leadership of his widow Irene Kärcher, that the company launched the HD 555, the first pressure washer for private users. When this product hit the markets, one could say that the pressure washer had truly arrived.
So there you have it, from the high-pressure Jenny to the HD 555, the pressure washer is a result of the work of various talented inventors with different motivations and visions. Fortunately, it all left us all with a great way of cleaning out our driveways, sidewalks, walls and other parts of our homes' exteriors. Whether you believe Ofeldt is more responsible or it was Kärcher, just be glad that your driveway is going to be looking nice and clean. 
Inspired to get your home or place of business pressure washed now but don't have one of your own? Thinking professional services may be the best option? Well, don't worry because Primetime Window Cleaning has been pressure washing property exteriors all around Chicago for years. We have expertise and resources necessary to make sure everything is cleaned and clear.  If you have any questions about the services provided by Primetime Window Cleaning and are interested in a free quote please click here: Request Quote