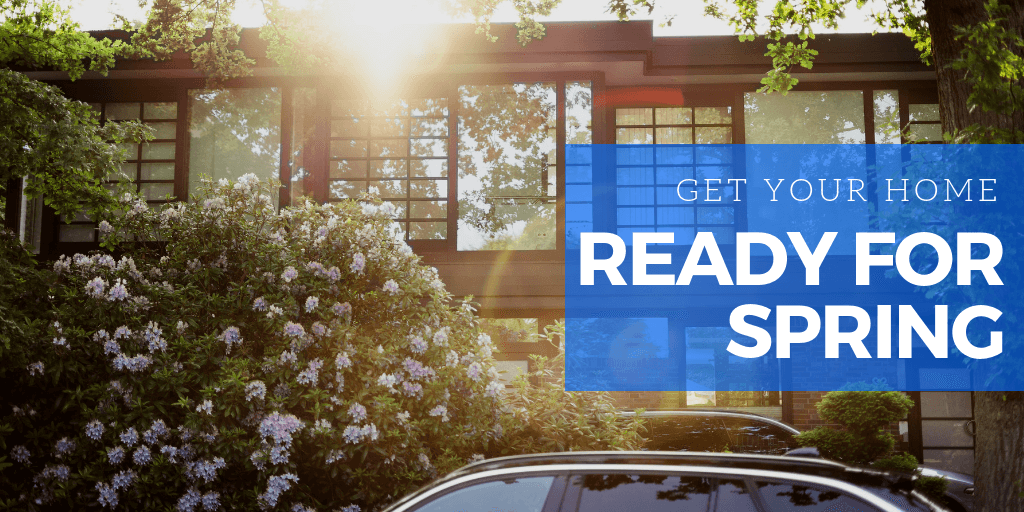 The cold Chicago winter has finally passed, and it's now safe to go outside without needing to wear 5+ layers of clothes – spring is finally here!
For some, spring means putting your gardening hat on and getting to work, and for others, spring kicks off a flurry of spring cleaning tasks and home repairs.
Here's a quick checklist to help you get your home ready for spring:
Wash your windows
Clean your gutters
Replace outside lighting
Pressure Wash Your Driveway and Sidewalk
Bright skies, longer days, and 50 degree weather brings the feeling of spring much sooner than we are used to. However, winter has been known to make an appearance or two in May and April, so enjoy the beautiful weather while you can.
Here's how to make your home inviting to the warm days and sunny skies ahead.
Wash Your Windows
Just as your driveway and sidewalk likely took a hit during the winter, it's time to give your windows a clean as well.
Devote a weekend to spend cleaning the inside and outside windows of your home, and make sure not to miss those windows that like to hide tucked away.
Dirty, streaked windows are a gross reminder of winter's weary weather. Celebrate the sun's warmth and bright rays by getting your home's windows professionally cleaned. Clean windows will allow the sun to better penetrate your home, adding brightness with natural light.
It will also work to help warm your living spaces, reliving some of the pressure off of your heater. Professional window washers like us will provide a thorough cleaning to your windows while getting at those hard to reach places that would be too dangerous for you to attempt yourself.
Clean Your Gutters
After a long Chicago winter, your home's gutters are often full of leaves and other debris which can really pile up. A clogged gutter can make it difficult for rain to drain properly, which can lead to damaging your home if excess water gets stuck.
Spend an hour or two this weekend inspecting your gutters and removing anything that may have gathered throughout the winter. If your gutters are really out of hand, there's no shame in hiring a professional to help you with the job.
Debris collects in your gutters all season long so it's important to have routine gutter cleanings so that your gutters can do their job properly. If gutters become blocked they can end up causing water damage to your home, which is costly and inconvenient.
A professional gutter cleaning service will clean out the debris from your gutters and the crevices surrounding them. For example, Prime Time Window Cleaning offers professional cleaning services at an affordable rate. Call us today to schedule your home's gutter cleaning appointment.
Replace Your Outside Lighting
While your porch is a common place to gather throughout the year, it's unlikely you spent much time out there during the winter. Now is the perfect time to replace your outside lighting so that you can enjoy your time outside with family and friends.
Check your porch light, your backyard lights, and any other area of your home that you rely on needing lighting to see. Expect to find at least several places where lighting needs to be replaced.
Pressure Wash Your Driveway and Sidewalk
As the weather heats up, your driveway and sidewalk will likely be used even more, but after the winter, it might look a little rough around the edges.
After being covered in dirt and snow throughout the winter, your driveway and sidewalk are almost certainly due for a nice spring cleaning. One of the most effective ways to get your driveway and sidewalk looking good as new is by using a pressure washer to wash away the dirt. Click here to hire a professional pressure washer to help you out.
Fix Areas of Your Home That Need Repair
According to the National Center for Healthy Housing, "poorly maintained homes are at risk for moisture and pest problems. Deteriorated lead-based paint in older housing is the primary cause of lead poisoning.
If you were putting off repairs or home projects until winter was over, now is the time to get those fixed. Whether you need to fix a small leak in the roof of the attic or need to repaint your basement now is a perfect time.
We're Chicago's Professional Spring Cleaning Service
Of course, no getting your home ready for spring list is complete without listing everyone's favorite activity — planting a few of your favorite shrubs and plants.
There are very few things more satisfying than kicking off your spring by spending a few hours in nature, planting your soon to be thriving plants and garden.
Give a few of these tips and suggestions a try, and enjoy your spring to the fullest.
Looking for a little help? We get that.
Spring weather finally feels like it has arrived, and after dealing with another Chicago winter, you'd love to be able to just RELAX
ffers professional cleaning services to get your home looking as good as new. Call us today to schedule your appointment!