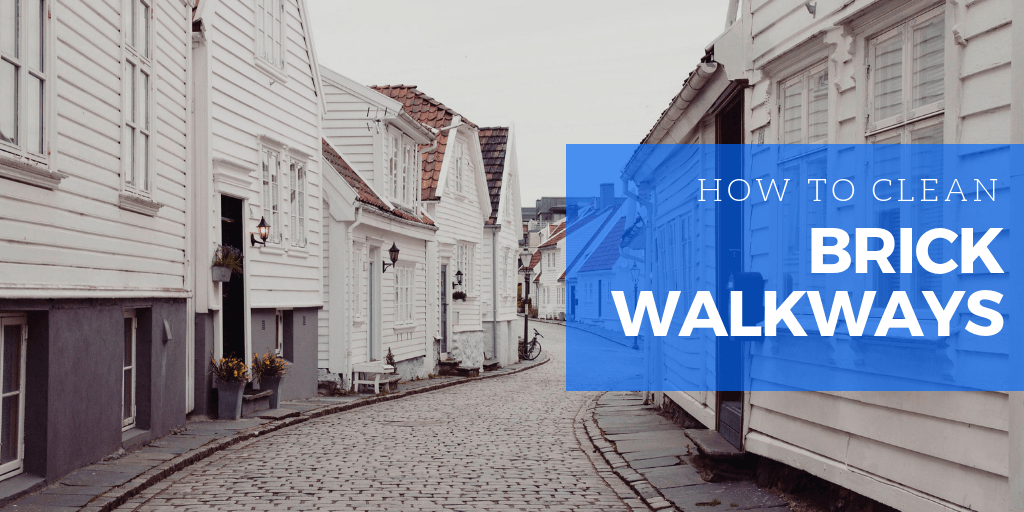 Beautiful landscaping can elevate the quality of your life. Whether it adds more zest to the entrance of your business or makes you more proud of your home, a walkway or patio makes a world of difference.
Of course, there's no richer, more classic way to go than brick. Known for their excellent durability and resistance to water, clay bricks can be the perfect choice for any walkway.
However, brick can come with its fair share of burdens. With time, brick is liable to experience some wear and tear.
Ways to Clean Your Brick Walkway
Brick walkways can attract dirt and mud as more and more people tread over them. In some cases, black mold or mildew can persistently grow on brick, turning your immaculate walkway into an eyesore.
It can be so frustrating- trust us, we know. When nature comes and damages your space, it's hard to know what to do about it. However, there are many ways you can clean the grime off your walkway to make it look good as new.
Power washing and pressure washing are two different processes that work towards the same result: getting filth off your outdoor surface. Power washers use hot water to tackle big tasks like the removal of mold or mildew while pressure washers don't feature a heating unit to maintain water temperature, providing a quick and efficient solution.
However, most companies that offer one service will offer the other and will employ them accordingly. No matter what method the situation calls for, professionals are equipped to ensure that your surface will look just like it did when you first fell in love with it.
Versatility is key to any effective power or pressure washer, but you want to make sure that any machine you use is able to deliver both power and execution. Any equipment that is below commercial grade will not suffice. Ideally, you would want to 3,500 lb hot water machine that can scrub all sizes.
Prepare to Pressure Wash Your Brick Walkway
The easiest solution is to hire a professional team to do the work for you, but if you are willing to invest in your own pressure washer, you will need to prepare accordingly. There is no common code for using pressure washers correctly and effectively, as different pressure washers have different abilities and limitations. Make sure that whichever model you are purchasing is the best for the job, and carefully read the set-up instructions before you start attempting to clean your surface.
The DIY pressure washing process starts far in advance. Before you even think about pressure washing your brick surface, you are going to have to patch any cracks or damaged joints in the brick at least a week in advance, so they can dry and repair.
Clear Up the Area Your are Washing Before You Begin
If you are trying your own hand at pressure washing, you are going to need to clear up your work area as well. Obstacles like plants, stones, and outdoor household appliances will need to be completely out of the way before you attempt to clean.
Plants that touch your walkway should be trimmed out, and nearby electrical outlets should be turned off and covered in plastic. Additionally, windows and doors to your home must be closed to avoid any accidental damage. Safety is extremely important when operating a machine of this caliber, so make sure you wear eye protection and keep a close watch of the spray gun at all times.
Pressure Washing Your Brick Walkway
The process of washing may seem simple: just point and spray. However, inexperienced cleaners may find it challenging to power wash an outdoor surface without damaging it.
The first thing you will want to do is spray detergent onto the surface and leave it there for some time. However, you must be careful! Some detergents are not compatible with pressure washing and using a high-pressure spray pattern could have detrimental effects. You are going to need to do your due diligence every step of the way.
Now it's time to spray! Working for the top down, spray in horizontal strokes to cover one small area at a time. It is best to start with moderate pressure and increase or decrease as needed, but again, different models will have different specifications.
Make sure you read the instruction manual so you can know the ideal pressure and spraying distance for your situation. Once you've covered the whole area, make sure you rinse it and any surrounding surfaces thoroughly to protect from detergent residue.
If a powdery, white substance emerges after you're done cleaning, don't panic! It's just efflorescence, a residue drawn out from the bricks by moisture. All you need to do is use a soft wire brush to scrub it off. If this doesn't work, some water should do the trick!
Make Sure the Job is Done
To make sure the job is done, check in a day or two after the initial process to make sure there are no stains left on the brick. It is important to wait until the brick has fully dried before you do this.
The pressure washer already did most of the work, so all you'll need to do is spot-treat leftover stains with water. If that isn't enough, bring out the wire brush! Mold and mildew might call for chlorine bleach.
Power washing is by far the most efficient way to clean a brick surface. However, if you are concerned about the damage that might come when the equipment is mishandled, it is best to leave the process to a professional.
If you are still looking for a way to clean brick by yourself without power washing, we recommend spraying the surface with a hose, mixing a cup of bleach with a gallon of water, and going to town with a synthetic scrub brush.
Cleaning Your Space is Worth It
If all this sounds tedious, that's because it is. Landscaping requires hard work, and just when you think your job is done, time flies and the surface wears down again. We get it. However, having a clean, fresh looking space is worth any investment of time or money. There are easy, affordable ways to get this done. Make sure you assess all your options to figure out which works best for you.