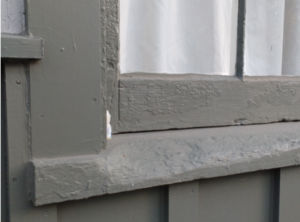 Any property owner knows that window sills like to collect dust. Add moisture and a few bugs to the equations and they will become quite the eyesore. The good news is that it only takes a few basic items and a little patience to make your windows look new again.
It's important to make sure you have the proper equipment before you begin cleaning your window sills. Here are the main items you'll need to get them sparkling clean: dish soap or vinegar, bucket of water, clean cloth, vacuum with trust attachment, spray bottle. 
Steps to Clean Your Window Sill
Using the brush attachment on your vacuum, remove as much dirt from the interior or exterior window sill as possible. After you finish vacuuming, it's time to address the dirt in the corners and tracks. Begin by adding either a drop of dish soap or vinegar to your spray bottle filled with warm water, and then proceed to spray down the affected area.
Now take a damp cloth and use it to wipe away the remaining dirt. For the harder-to-reach places, you can try using a cotton swab. Make sure to keep your bucket of warm water nearby as you'll need it to rinse out your cloth. If there are still some hard to reach places, try using a soft-bristled brush or even a toothbrush to scrub away the grime.
Maintain Your Window Sill
Now that you've cleaned those window sills, you need to take the necessary measures to prevent the same grit and grime from building up all over again. To help maintain a clean look, it's important to dust the window sills on a fairly regular basis. Making sure that they are dust-free will dramatically diminish any buildup on the sills. In order to address the dead bugs or dirt in your window, you can rely on the brush attachment on your vacuum to sweep them up quickly and easily. 
Don't quite enjoy the process? Finding it too tedious or time-consuming to maintain your window sills. Well, there's good news. You can always rely on a professional cleaning service. Primetime Window Cleaning provides has been cleaning window sills all around Chicago for years.
If you have any questions about the services provided by Primetime Window Cleaning and are interested in a free quote please click here: Request Quote