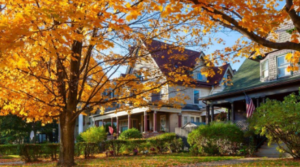 Ah yes, the cool breeze off Lake Michigan has come to relieve Chicago of yet another sweltering hot summer. Sure, you may be ready to embrace the cooler weather, but are you prepared for the wind, the leaves, and even potential snow? 
While there are many things that you are going to need to do to prepare your property for fall, getting your windows cleaned should be a high priority. You'd be surprised just how many things you need to take into account to ensure that your home is cleaned and therefore better prepared for the leaves, wind, rain, and everything else that accompanies this seasonal change.
Power Wash 
The fall can do serious damage to your driveways, sidewalks, walls, and just about any other part of your property's exterior if you aren't careful. If you don't get ahead of it then you will see the grit and grime begin to accumulate with each passing storm? Better stay on top of the leaves and other debris and keep your property's exterior nice and clean. Otherwise, you'll be left with some unsightly discoloration. 
Clean Your Windows 
It's no secret that clean windows help prevent colds. Any time of seasonal transition can be a time when allergens are most likely to kick in. Windows and window screens are an ideal place for airborne allergens to accumulate and if they are left unattended, you, your family or your employees are far more vulnerable to getting a cold. 
Make sure to keep them sparkling clean as the temperatures begin to. Not only that, but letting in the natural sunset will actually keep your home that much warmer which cold be critical considering the impending cooler temperatures outside.
Clean Your Gutters 
Gutters are the primary component of the water discharge system for a building. When functioning well, they will protect your doors, walls, ceiling, and foundation from permanent water damage. Furthermore, they can prevent flooding, minimize soil erosion around your property, and protect your fascia and patios from water-related staining and decay. 
In the fall, your patience will be tried over and over again keeping these cleaned, but just because it can be frustrating doesn't mean keeping your gutters cleaned shouldn't be a high priority. Unsurprisingly, clogged gutters are the number one cause of ice dams, which can emerge when fall becomes winter. So get your home ready for this winter by cleaning those gutters and preventing the clogging that can turn into costly ice dams. 
Starting to panic realizing everything you need to do get your home cleaned and ready for winter? Don't worry, Primetime Window Cleaning has you covered! We are Chicago's most reliable window cleaning, gutter cleaning and power washing experts and we can guarantee 100% customer satisfaction. If you have any questions about the services provided by Primetime Window Cleaning and are interested in a free quote please click here: Request Quote