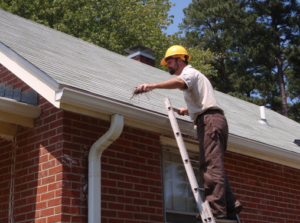 Already aware of the importance of clean gutters and the value of hiring a professional gutter cleaning service? In the Chicago area and having a hard time finding a company that is reliable and delivers quality service at a fair price? We know that choosing a gutter cleaning service can be overwhelming, especially for those that don't know much about the industry. So, in order to help you pick the right gutter cleaning service for yourself, we've compiled this list of things to ask and consider as you go about your search. 
How Long Has the Gutter Cleaning Service Been in Business? 
Find a company with a physical location that's been in business for at least 2 years. Ideally, you'll want to find a gutter cleaning service with a physical location that's been in business a few years without incident is a great initial indicator of a reputable company.
What Are the Exact Gutter Cleaning Methods Used?
Some companies cut corners by using gutter robots and extendable grabbers, which the pros have proven ineffective. This may happen when a servicer is inexperienced or when gutter cleaning is offered as a quick side job to a larger project, such as installing windows and doors. It's good to ask the company about their methods, including any tools they use (like gutter cleaners).
Do You Perform Background Checks on Your Employees? 
Letting someone wash your gutters means you are letting them onto your property. Although we'd like to expect the best in everyone, it's still a very necessary precaution that all employees at any gutter cleaning company have been background checked. It's a simple and necessary process and any serious company will get it done. It will give you, the customer, more peace of mind as you bring people into your home or office. 
Are You Insured and Fully Licensed? 
You may assume that a gutter cleaning business would be fully licensed and insured, but it's better to be safe than sorry. If an accident happens on your property, and the company does not have the right insurance for the job they performed, you could end up on the hook for substantial penalties. 
How Do You Guarantee Customer Satisfaction? 
What if you are not satisfied with the job they do? Are you guaranteed a refund? Will they come back for a re-wash? If they are a legitimate company, they should be confident that the service they provide will satisfy their customers. Having clarification on this will ensure that expectations are aligned.
Remember, when searching for professionals to clean your gutters, it's wise to go with a service with proven experience. Primetime Window Cleaning won't shy away from any of the above questions. We provide services for business and residential customers alike all around Chicago and have all the expertise and resources necessary to make your gutters clean. If you have any questions about the services provided by Primetime Window Cleaning and are interested in a free quote please click here: Request Quote