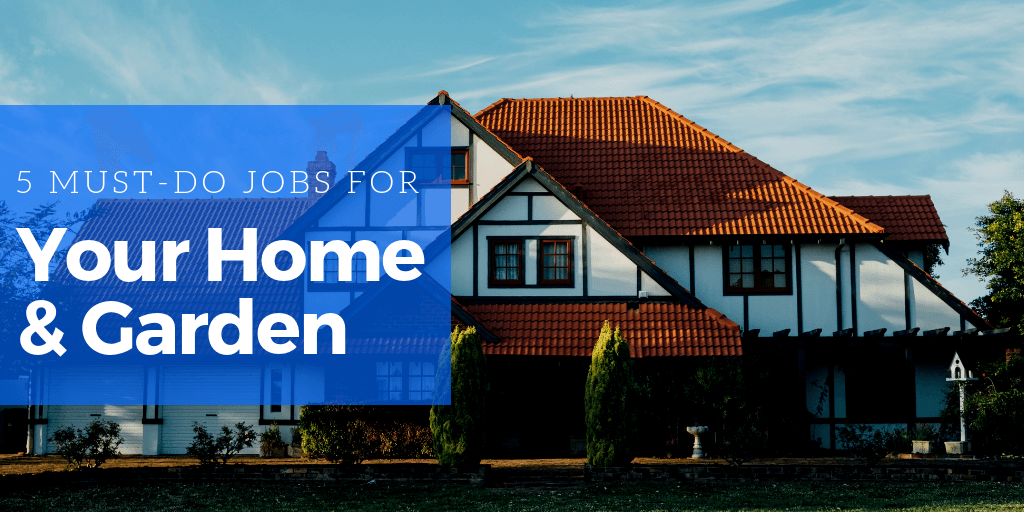 Summer is the perfect time to be working on your home and garden, and rightly so. Whether it's a significant renovation project, a minor task, or something that you've had on the back burner — summer gives you the opportunity to get back on track.
After all, the prolonged daylight will allow you to work extended hours and accomplish more. Although spring has been known as the 'home renovation and building' season, summer tends to be more favorable for homeowners. And that's because, during summer, people don't have to worry about snow, rain, strong winds, etc.
That said, here are five summer jobs to get done around the home and garden.
Clean or repair windows and gutters
Windows are an essential part of the house. Not only do they keep your home safe and secure, but they also make it energy-efficient. But over time, these things go through a lot like dust, dirt, oxidation, and other corrosive substances. Wear and tear are normal, however, cleaning your windows will help extend their lifespans and your energy bills lower.
Admittedly, gutters are also often overlooked when it comes to house maintenance. But what many don't realize is that malfunctioning or clogged gutters can actually cause severe damage to a house. Gutters defend your home from running water, so if they're not functioning well like they're supposed to, it's very likely that water will seep into your home.
Window cleaning can be an easy DIY project, but you may also want to hire a professional at least once or twice a year. You can also clean your house's gutters yourself but be aware that working on the roof can be extremely dangerous. You might as well leave the gutters to a professional.
Consider installing artificial grass
Artificial grass can be beautiful and, in a way, it shows your love for your garden. After all, as far as inspirational garden quotes go, Gertrude Jekyll once said — "The love of gardening is a seed once sown that never dies."
For sure, people take pride in their green and healthy lawns. However, maintaining a garden is not an easy thing to do. Unless you are willing to spend money to have someone take care of your lawn, you'll have to break a lot of sweat and put a lot of time into it.
If you are stuck between keeping your green lawn but don't have the luxury of time to maintain it, you might want to consider installing artificial grass instead. It's very easy to do so, and synthetic turf does a great job of keeping your lawn aesthetically pleasing under any kind of weather.
Besides, artificial grass is actually considered to be one of the methods to improve your garden the eco-friendly way. Pretty much, artificial turf can do most things that natural grass can, only better.
Attract wildlife into your garden
Having a garden is one way to live a green life but attracting wildlife into it takes it to the next level. Creating a wildlife garden provides many benefits that everyone needs to be aware of. At the same time, anyone will agree that a wildlife garden is a decoration project that will surely give your garden the extra flare.
Gardens that are able to attract wildlife make use of native plants. Since native plants are well-adapted to the growing conditions of the area, it's implausible that you'll have problems with pests and diseases. The result? You won't have to use chemicals like pesticides and insecticides which is a good thing for the environment.
A butterfly garden, for instance, will be an excellent garden project this summer. Contrary to what many think, inviting these magnificent winged creatures into your garden is not very difficult at all. Start by knowing which butterflies are native to your area and grow the plants that they love. This, together with plenty of sunlight, should be enough to start attracting the first batches of guests into your garden.
Check on your air-conditioner
Everyone is not doing justice to their air conditioning units if they say that it's not their most favorite appliance during summer. After all, it keeps you fresh and comfy especially when the sun outside is just too much to handle. That is why it only makes sense that your AC unit is in excellent shape to be able to serve you well.
Unfortunately, most homeowners don't take notice of their air conditioners until they stop working — big mistake. You see, making sure that your AC gets some attention and regular maintenance is one way to make it last longer. As a bonus, it prevents you from having to hire a professional for repairs or buy a new unit altogether.
Here are a few things that you should do:
Take out and clean the air filter on your air conditioner (or call an HVAC installation specialist). Keep in mind, however, that some models have filters which are meant to be disposed of after some time. Your best bet is to check the instructions manual to know if it can be cleaned or not.
Regularly check your AC to make sure that its condensation hose is not clogged up.
Prevent the growth of mold and algae near your AC unit by removing the water near the condensation line drains.
If the cost of repairing your old AC unit is more than 50% of the price for getting a new one installed, it's better to go with a new unit.
Remodel your kitchen
Obviously, summer is also the perfect time to cook and eat outside. You won't be using your kitchen as much during this time because that's what barbecues are for. This being the case, it presents the perfect opportunity to think about kitchen upgrades or better yet, remodel the whole kitchen.
Doing so will not only improve its aesthetics and efficiency, but it will also increase the overall value of your home should you plan to sell it in the future. If you are a little short on budget for a major kitchen upgrade, don't worry. You can start with small jobs that cost very little to nothing, taking it one step at a time.
Instead of replacing your kitchen drawers, consider painting them especially if they're still in excellent condition. If it has been a while since the last time you decluttered your kitchen space, now is the time to do so. You'll be surprised at how even something as simple as this can go a long way.
Though, the drawback of remodelling your kitchen (or any part of a structure for that matter) is the clean-up that's required right after it. A kitchen can, after all, get pretty messy in places you can and cannot reach.
You have options, though. You can do it yourself and invite your friends to share in the activity, or you may decide if you want to use grab or skip hire to clean up the mess. It is not as important on which options you choose, as it is imperative that it is tidied up afterwards!
See it through!
Summer or not, there are many home and garden improvement projects that you can do. It all boils down to whether or not you have the resources to start and finish the job. However, there are many advantages in working over the duration of summer.
For starters, family members can easily help you with DIY projects since they have lighter schedules (school vacation for kids). It also helps that there's less disturbance while you do your thing if the other family members are on vacation somewhere.
If you are unsure of where to start, you can just walk around and inspect each area of the house. Pretty much, you would be able to find something that needs some fixing or replacing.